April 24, 2014 / Housatonic Community College, Bridgeport
Web Conference – "Development from the Donor's Perspective" – held at HCC
Our AFP Chapter is happy to make Web Conferences available for our fundraising community. We purchase the Web Conference from AFP International to ensure quality programs and present them at a central location. This is not a webinar, all conference participants watch the presentation at the identified location.
Registered participants will receive an email the day prior to the conference, with a link to download their own conference materials. (There will be no handouts given at the conference.)
FREE TO AFP MEMBERS   ($20 for non-members*)
Presenters:  James S. Anderson and Alice L. Ferris, MBA, CFRE, ACFRE
Date:  April 24, 2014 (Thursday)
Start Time:  1:00 PM
Estimated Length:  1 hour, 30 minutes
Location:

Housatonic Community College
Beacon Hall, Room 288
900 Lafayette Boulevard, Bridgeport, CT  06604
Directions – click here
Registration/Payment:
Free to AFP Members; $20 for Non-Members*
*We ask that payment for Non-Members be made in advance, either by mailing a check made payable to "AFP-FC" to:
Marianne Hickey, 29 Black Alder Lane, Wilton, CT  06897
or we can accept a Visa or M/C payment by clicking here (or using this link: https://www.chi-cash-advance.com/sforms/appeal1449/Contribute.aspx
To confirm your attendance, send an email to: 
About the Event:
In spite of our best planning and adoption of best practices in the field, our donors don't fit into the process very neatly. Why? Because the donor's definition of the best way to help them make a philanthropic gift isn't necessarily what has been captured in our systems. It's not that all of the best practices are broken: it's that we need to be more flexible, innovative, and empathetic to the donor's perspective. In this session, we'll share stories of donors that didn't quite fit the mold, provide insights on how you can examine your own development strategies for "sacred cows," and recommend ways to be more responsive to your donors' needs.
At the conclusion of this session participants will:
Identify changing motivations for donors and the way they want to give
Evaluate current fundraising strategies that may need revitalization
Evaluate new fundraising tools and strategies to meet donor needs
Target Audience:
CFRE Credits: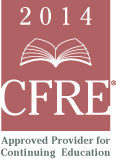 You earn 1.5 CFRE credits toward certification for each Audio/Web Conference you attend. For more information about CFRE certification, please visit http://www.afpnet.org/Professional/CertificationList.cfm?navItemNumber=554
About the Presenters:
James S. Anderson has more than 25 years of sales and sales training experience through his positions with research companies such as Nielsen Media, Simmons and Scarborough Research and was regularly recognized as a top producer, including Salesman of the Year and Top Revenue Producer ($30 million +). Since moving to the nonprofit field, Jim has "used his powers for good" to improve marketing campaigns and corporate support programs. He currently serves as President for AFP Northern Arizona and was the 2010 AFP-Northern Arizona Fundraising Professional of the Year.
Alice L. Ferris, MBA, CFRE, ACFRE is the founding partner of GoalBusters Consulting, LLC, and has over twenty years of professional fundraising experience. She is a two-time honoree as AFP-Northern Arizona Fundraising Professional of the Year and is one of less than 100 in the world to attain the Advanced Certified Fundraising Executive (ACFRE) credential. She is also recognized for her on-air work for public television nation wide, including her recent work on PBS' Masterpiece: Downton Abbey. Alice specializes in development and strategic planning, annual giving, board development and grant proposals.
Both Alice and Jim are Association of Fundraising Professionals Master Teachers.