AFP Employment Listings
Current Listings
11.03.2023  Development Manager – Make-A-Wish Connecticut

Job Posting Service
AFP-Fairfield County Chapter sponsors a Job Posting Service for area fundraising professionals. Whether you're looking for your next big career move or trying to find the perfect candidate, this is the place to start.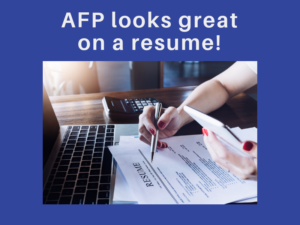 Job Posting Benefits:
The ad will remain on the site for 30 days.
Posts are announced via email to our distribution list of 1000+ professionals in the local area.
Job Posting Rates:
$150 for the general public
$75 for AFP-Fairfield County Chapter members
Please use the pay online link below to pay the fee as appropriate. We will accept checks, but do not invoice for this service. You will receive an auto-receipt at the email address entered at check-out. Then send your job listing as a website link, Word document, or PDF as you would like it to appear to Kathy Hoile at .
Please note that all submissions must include a salary range in order to be posted on our website. Once the submission is complete the posting will then be published to the website by the administrator within 48 hours.
Pay Nonmember Job Board Fee:
Pay AFP Member Discounted Job Board Fee:
To pay by check, make payable to "AFP- FC" and send to:
AFP Fairfield County Chapter, P.O. Box 1161, Fairfield, CT  06825