December 6, 2018 / The Norwalk Inn and Conference Center
Meet C. K. Swett — "Like A Double Expresso Shot to Shake Up Your Story and Energize Your Events"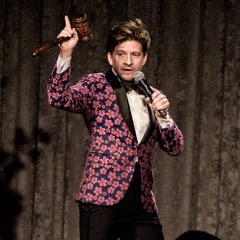 Meet C. K. Swett — "Like A Double Expresso Shot to Shake Up Your Story and Energize Your Events"
CK Swett, a California native and Duke University graduate, began his career in the auction world in 2006 and has worked at Christie's, Phillips and Heritage during the intervening twelve years. In 2016, he founded Lot 1 with former Christie's colleague, Charles Antin, in order to better address the critical importance of not-for-profit fundraising.
CK's charity auctioneering efforts since 2010 have yielded more than $60 million across nearly 500 events that support everything from school children in Malawi and veterans returning from Iraq and Afghanistan to public schools in Manhattan and the American Cancer Society. Hailed by the New York Times as having "managed to shake up the staid world of auctioneering," CK set the world auction record for boxing memorabilia in February 2012, selling the gloves Muhammad Ali wore during his 1965 fight against Floyd Patterson for $1.1 million on behalf of the Lou Ruvo Center for Brain Health.
When not convincing bidders to raise their paddle one last time, he is often found swimming, playing chess on his phone, or singing enthusiastically off key.
CK will speak to us about how to orchestrate a successful charity auction. He will provide the "dos and don'ts" to engage and tips on how to generate interest from the audience and identify "bidders" for each item being auctioned. This will be an interactive session to help you plan an outstanding auction at your next event!
Our Sponsor

Find out more about Our Sponsors
Details
Date: Thursday, December 6, 2018
11:30 AM Registration and Networking
12:00 PM Buffet Lunch and Program
Location: The Norwalk Inn & Conference Center, 99 East Avenue, Norwalk, CT.
Luncheon Fee
AFP MEMBERS – $30
FUTURE MEMBERS – $45
*GUEST of AFP Member – $40
A BENEFIT for all AFP-Fairfield County Chapter Members! We encourage you to invite a prospective member to an AFP educational program at a special rate of $40.
*Reservations can be made online by the guest, but the Member must attend the event. Walk-in guests will not qualify for special rate. Guests may only receive a special guest rate one time.