December 2, 2021 / Norwalk Inn
In-Person Annual Meeting & Member Recognition
Eartha & Kitt: A Conversation with Kitt Shapiro
Join Kitt Shapiro at the AFP Annual Meeting as she talks about life with her legendary multi-talented mother, Eartha Kitt, and shares her new book Eartha & Kitt, A Daughter's Love Story In Black & White.
Eartha Kitt is most widely known for singing 1953 classic "Santa Baby" and the iconic Cat Woman on Batman. Kitt grew up in the south with a hard family background and emerged as a fiercely independent advocate for women, gay rights, and the underserved who didn't want her blackness to define her. Kitt starred in Broadway shows, sold-out one-woman shows in major cities, and many movie credits. She also recorded over 40 albums and was nominated for three Tony Awards, three Emmys, and two Grammys, of which she won two.
Shapiro will share life lessons and stories of traveling with the biggest celebrity at the time, and her best friend for thirty years.
If you would like to see New York LIVE's interview with Kitt about her mother, click on the image below.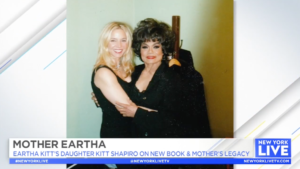 Our Speaker:
Thank You to Our Sponsor:

CompuMail has provided marketing communication services for over 25 years, specializing in data processing; graphic design services; digital, offset, and thermographic printing; purl, gurl and QR code development; direct mail services and more – all in our facility in central Connecticut. Whether it is printing your business cards or developing and managing your fundraising campaign, we engage industry-leading technologies in order to bring our clients the best products and results.
Details
Date: Thursday, December 2, 2021
11:30am – 12:00pm  Registration and Networking
12:00pm- 1:30pm  Buffet Lunch and Program
Location: The Norwalk Inn & Conference Center, 99 East Avenue, Norwalk, CT 06851
Luncheon Fee
AFP MEMBERS – $40
*GUEST of AFP Member – $45
FUTURE MEMBERS – $50
A BENEFIT for all AFP-Fairfield County Chapter Members! We encourage you to invite a prospective member to an AFP educational program at a special rate of $45.
*Reservations can be made online by the guest, but the Member must attend the event. Walk-in guests will not qualify for special rate. Guests may only receive a special guest rate one time.