September 16, 2015 / The Westport Woman's Club, Inc.
Back-to-Back AFP Events: A Higher Bid with Kathy Kingston PLUS Last of the Summer Wine Networking
 A Higher Bid by Kathy Kingston
(An exclusive seminar and book-signing event)
PLUS
AFP Last of the Summer
Wine Networking Reception
(Enjoy the company of your peers in the world of philanthropy
and help us welcome AFP's newest members and prospective members)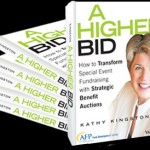 How to Revolutionize Your Fundraising Events
to Ignite a New Culture of Giving
Presented by Kathy Kingston, CAI, BAS
Get your *free* sneak peak now! … www.AHigherBid.com
Wednesday, September 16, 2015
3:00-3:30pm Seminar Registration/Book Signing
3:30-5:00pm Seminar
5:00-7:00pm AFP Last of the Summer Wine Networking Reception
Sonoma wines, cheese, hors d'eourves
Meet the Author
The Westport Woman's Club, Inc.
44 Imperial Avenue, Westport, CT 06880
| | |
| --- | --- |
| 3:00-7:00pm | Seminar/Book Signing/AFP Last of the Summer Wine Networking Reception |
| 5:00-7:00pm | AFP Last of the Summer Wine Networking Reception ONLY |
Reception & Networking Night includes: 
Sonoma wines, cheese, beer, soda and
hors d'eourves/Meet the Author
---
PRESENTATION DESCRIPTION
The Association of Fundraising Professionals (AFP-Fairfield County Chapter), with endorsements from Fairfield County's Community Foundation Center for Nonprofit Excellence and CT Association of Non Profits, is proud to bring you Kathy Kingston for this one-day, not-to-be-missed special event that will elevate your fundraising potential immediately.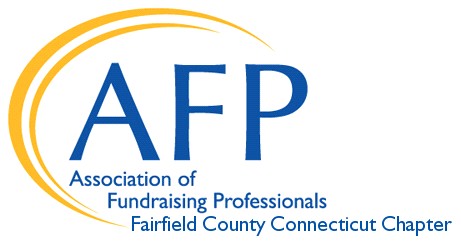 Kathy Kingston shares her insider midas touch secrets from her new book A Higher Bid. Attend this highly interactive and content rich (and fun) presentation and soak in three decades of wisdom and donor development via benefit auctions. There will be no looking back.

Highly interactive with a combination of a strategic learning auction, lecture, participant discussions, role plays and case studies.
Be strategic. Design your benefit auction as a springboard for greater fundraising and long-term donor engagement.
Learn from one of the most respected and successful fundraising auctioneers and consultants in North America.
Learn how your auction, gala and fundraiser events can be THE new catalyst for donor engagement and retention. Special events have long carried a negative stigma and suffered a backlash of decreased support from funders, grantors, donors and sponsors. It's no wonder. Even though overall charitable giving is up, it's a shame that most of fundraising auction events are not highly successful, and in some cases, they barely cover their expenses, leaving untold money on the table.
Fun-raising parties are out. Philanthropic bidding is in!
Kathy shares her innovative and profitable ideas from her book A Higher Bid. She provides sustainable strategies and solutions to advance from a transactional model of event planning to a transformational model of philanthropy. You'll learn how to catapult your cause and to boost your bottom line with Kathy's proven and innovative donor-centered approaches.
Highly interactive with a combination of a mini fun-auction, lecture, participant discussion, role plays and case studies.
---
WHAT PARTICIPANTS WILL LEARN
Position your fundraiser event to create a culture of philanthropy
Leverage the "Five Pillars of Benefit Auctions"for your event
Engage, cultivate and retain more guests, donors and sponsors
Apply three novel strategies to attract power bidders and new donors
Energize your leadership, board and volunteers
Creatively communicate the impact of bidder and donor gifts
Turn your boring cocktail hour into a robust donor cultivation occasion
Design your event to maximize fundraising and momentum
Double your profit in 10 minutes with an inspiring Fund-a-Cause
Turn guests and bidders into long term donors
Kathy's Crystal Ball: How to leverage trends in auctions and philanthropy
---
ABOUT KATHY KINGSTON, CAI, BAS
Kathy Kingston is the founder and principal of Kingston Auction Company which has raised millions of dollars for organizations nationwide. She is the creator of the Philanthropy Model of Fundraising Auctions. Ms. Kingston is the author of the book entitled A HIGHER BID How to Transform Special Event Fundraising with Strategic Benefit Auctions. Kathy's book is published John Wiley and Sons, Inc. and co-published AFP Association of Fundraising Professionals in the AFP Fund Development Series.
Kathy, who has been a professional fundraising auctioneer for nearly three decades has been awarded two of the auction industry's major awards, the 2012 Chuck Cumberlin Memorial Sportsmanship Award and the 2006 Rose Award from the National Auctioneers Association. She was a finalist in the International Auctioneer Championship in 2013. Ms. Kingston holds the Certified Auctioneer Institute (CAI) designation. She was a charter class member and has been an instructor of the Benefit Auctioneer Specialist (BAS) professional designation program.
As a consultant, fundraising auction strategist and speaker, Kathy founded The Fundraising Auction Academy, where she conducts benefit auction seminars, custom workshops and mentoring nationwide for nonprofits, executives, boards, and auctioneers. Kathy holds a Master's Degree in Education from Saint Louis University where in 1986 she was named "Woman of the Year." In 2013, she was inducted into the Million Dollar Consultant™Hall of Fame.
For complimentary resources and more information visit her website www.KingstonAuction.com.
Get your *free* sneak peek now!  …   www.AHigherBid.com
 

Time



Event

AFP
Member

AFP Member
Guest

Non
 Member

3:00-3:30 pm
3:30-7:00pm
Seminar Registration/Book Signing
90-Minute Seminar followed by Reception
$80*
$80*
$80*
*If you register for the Seminar by September 9, your Seminar ticket will include a free, autographed book, A Higher Bid ($45 retail value).  Books can be purchased separately at the event after September 9 registration subject to availability.
 

Time



Event

AFP
Member

AFP Member
 Guest

Non
 Member

5:00-7:00pm
Reception ONLY
$25
**
$30
**AFP Members are encouraged to bring one prospective new member to the networking event (5:00-7:00pm) for free.