December 1, 2022 / Pinstripes (In SoNo Collection Mall)
Annual Meeting & Member Recognition
Fred Bucher: On Taking Chances
What does a peripatetic SVP of Marketing for the Weather Group do when COVID locked everyone down in 2020? Fred Bucher turned his passion for reading mystery novels and political thriller books and took a chance to write his book. Bucher uses his creativity and years of experience in senior media leadership to create a genuine voice and to bring to life his first highly-reviewed thriller, All The Lies We Believe. This book is a fast-paced thriller with contemporary themes. The story follows the protagonist, Will, who is forced to confront dangerous enemies when a stolen laptop exposes a murderous conspiracy.
Join us at the AFP Annual meeting and hear Fairfield's Fred Bucher share how he found time to open a new creative chapter in his life while still working in the eye of the storm guiding Marketing for the Weather Group's four brand properties. You may come away ready to take a chance.
Our Speaker: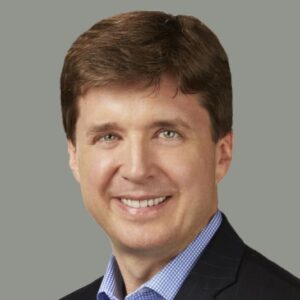 Fred Bucher is a marketing executive who has held senior-level positions at some of the most prominent media companies in the world. Currently, he is the Chief Marketing Officer at The Weather Group. Before entering the marketing and media business, Bucher spent a few years working in politics in New York and Washington, DC. He writes regularly about business, leadership, marketing, and media for his blog, For What It's Worth, at fredbucher.com.
Fred holds a bachelor's degree in history and political science from Dickinson College. He is actively involved in charitable work as a board member of the Cardinal Shehan Center in Bridgeport, CT. He and his wife have four children and live in Fairfield, Connecticut, with their loud but lovable dog, Ryder. All The Lies We Believe is his first novel, and it won't be his last.
Thank You to Our Sponsor:

CompuMail has provided marketing communication services for over 25 years, specializing in data processing; graphic design services; digital, offset, and thermographic printing; purl, gurl and QR code development; direct mail services and more – all in our facility in central Connecticut. Whether it is printing your business cards or developing and managing your fundraising campaign, we engage industry-leading technologies in order to bring our clients the best products and results.
Details
Date: Thursday, December 1, 2022
11:30am – 12:00pm  Registration and Networking
12:00pm- 1:30pm  Buffet Lunch and Program
Location: Pinstripes (At the top of the SoNo Collection Mall), 100 North Water Street, Suite 3300, Norwalk, CT 06854
Note: Parking is $1/hour payable at a kiosk near the entrance to Pinstripes. Parking is on the roof level near Pinstripes. Before the event, we will send an email with detailed parking information.
Luncheon Fee
AFP MEMBERS – $40
*GUEST of AFP Member – $45
FUTURE MEMBERS – $50
A BENEFIT for all AFP-Fairfield County Chapter Members! We encourage you to invite a prospective member to an AFP educational program at a special rate of $45.
*Reservations can be made online by the guest, but the Member must attend the event. Walk-in guests will not qualify for special rate. Guests may only receive a special guest rate one time.