January 12, 2017 / Westport Public Library
AFP Roundtable Discussion: An All New, Members-Only Event! Sponsored by MSP Cultivate
Introducing a brand new MEMBERS ONLY event! Four times this year, AFP Fairfield County will offer its members a free opportunity to meet with fellow members and discuss in a casual, roundtable conversation the issues, challenges and solutions facing the nonprofit development field.
Our first program in this series will be held at the Westport Public Library (from 11:15am-1:00pm) and will begin with an exclusive tour of the library (more info below) discussing its upcoming renovation, details about their current capital campaign, and will conclude with a broader conversation among participants about capital campaigns and other pertinent topics. Please feel free to bring a brown bag lunch for this discussion.
**Even if you are not currently part of a capital campaign, please try to attend if you are a member!  We will be asking participants how they wish to see this program develop over the year, so please have your voice be heard!**
Register for this exclusive by emailing Marianne Hickey at . Any questions? Please contact Marianne.
---
OUR SPONSOR
Thank you to our sponsor for this Members Roundtable, MSP Cultivate!

MSP Cultivate is a New Canaan based strategic marketing agency specializing in enhancing nonprofit organizations' mission-driven communication. Our mission is to use the latest in technology, creative services, and production methods to help you accomplish your most fundamental goal: engaging and connecting with your constituents, and helping raise money. We work with multi-hospital healthcare networks, colleges, and a variety of nonprofits. Our strategies increase donation returns on development dollars spent. The result of MSP's partnerships has helped organizations improve donor retention, increase participation rates, and total dollars raised. Our team professionals bring the experience of veteran fundraising specialists, digital marketing experts, database gurus, and creative artists.
Nils Morgan
MSP Cultivate
65 Locust Avenue, New Canaan, CT
mspcultivate.com
203-252-5097
---
A Behind the Scenes Tour of the Westport Public Library

Come experience AFP-Fairfield County's first ever "Behind the Scene's Tour" of the Westport Public Library, which is among the most innovative libraries in the country. In 2013, as a leader in the Maker Space movement, the Library received a coveted national Institute of Museum and Library Services grant.  Maker spaces at the Library provide creative areas where robotics, 3D printers, telescopes, and a variety of arts and electronics are explored and tinkered with. The organization continues to anticipate the changing needs of the community and is revolutionizing the way library learning spaces are utilized. Its transformational capital campaign seeks to raise $19.5 million to upgrade the Library building, erected 30 years ago, so that is more conducive to the way people work, play and live today. One of the highlights of the new construction is that the Riverwalk level of the Library will house most of the collection and allow Library users to research, study, cozy up with a book, or just reflect while gazing at the beautiful tree lined Saugatuck River, its native white swans, and youth serenely sculling through the sparkling, clear water.  The main level will be the center of programming activity and the hub of resources and services and the latest bestsellers.  With the expected approval of the Westport RTM in early January, a State grant and private funding, the Library is already over 75% to its goal and is planning to break ground in August 2017.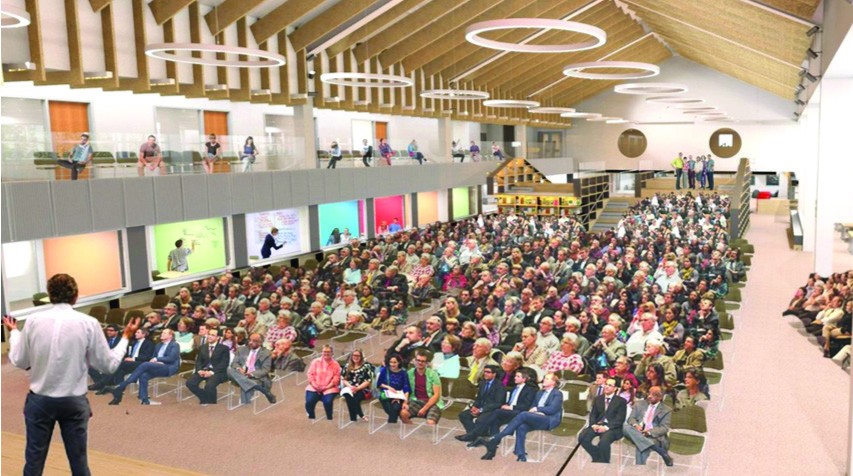 Some of the cutting-edge programs that the Westport Public Library offers include:
Artist in Residence program, which this year, highlighted Westporter native Miggs Boroughs, who is credited with creating several Time Magazine covers, of which are on display at the Smithsonian
Museum in Washington D.C., along with some of his other works including several US Stamps;
a café with bold coffee and an array of sweet and savory snacks from local purveyors;
author visits by writers such as Salmon Rushdie and Ron Chernow, the Pulitzer prize winner and the bestselling biographer of Alexander Hamilton — which was the inspiration for the popular Broadway play, Hamilton;
ukulele lessons;
tailored Travelkits that are road trip packages for children and families including books on tape, art and songs related to a vacation's itinerary;
presidential election result watching on a large TV;
use of the new virtual gaming HTC VIVE system, which allows one to move around and physically interact with the environment;
quiet and collaborative spaces for budding entrepreneurs; and,
teen development of video games, writing of fanfiction, and experimenting with computer coding
AFP-Fairfield County Behind the Scene's Tour program attendees will be guided by long-time, devoted AFP member and former Board member, Cindy Clark, who is the Library's extraordinary Development Director, and the renowned Executive Director, Bill Harmer, who came to the Library in July 2015.