October 21, 2014 / Fairfield Prep
Web Conference – Fundraising Basics
Our AFP Chapter is happy to make Web Conferences available for our fundraising community. We purchase the Web Conference from AFP International to ensure quality programs and present them at a central location. This is not a webinar, all conference participants watch the presentation at the identified location.
Registered participants will receive an email the day prior to the conference, with a link to download their own conference materials. (There will be no handouts given at the conference.)
FREE TO AFP MEMBERS   ($20 for non-members*)
Presenter:  Brian Bonde, ACFRE
Date:  October 21, 2014 (Tuesday)
Start Time:  1:00 PM
Estimated Length:  1 hour, 30 minutes
Location:
Fairfield Prep, Fairfield University Campus
1073 North Benson Road, Fairfield, CT  06824-5157
First floor of Xavier Hall, President's Conference Room (across the hall from Xavier 112)
Contact:  Larry Carroll
Phone:  203-254-4237
Registration/Payment:
Free to AFP Members; $20 for Non-Members*
*We ask that payment for Non-Members be made in advance, either by mailing a check made payable to "AFP-FC" to:
Marianne Hickey, 29 Black Alder Lane, Wilton, CT  06897
or we can accept a Visa or M/C payment by clicking here (or using this link: https://www.chi-cash-advance.com/sforms/appeal1449/Contribute.aspx
To confirm your attendance, send an email to: 
About the Event:
Fundraising can be overwhelming and sometimes daunting for the first-timer. Fundraising: The Nuts and Bolts, is designed to provide you with the framework for fundraising, along with the tools you need to be successful.  Brian Bonde, ACFRE, will share best practices of fundraising basics and answer fundamental questions you have about where to begin on a successful career. This seminar is designed specifically for individuals who are new to the fundraising profession.
At the conclusion of this session, participants will:
Understand the basic ethical principles that define professional fundraising.
Begin to explore the nature of wealth and why people want to give
Be introduced to the various gift types and the fundamental natural of raising money
Look at the development office structure and how it should be organized
Target Audience:
This seminar is designed specifically for individuals who are new to the fundraising profession.
CFRE Credits: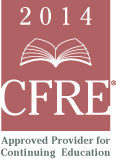 You earn 1.5 CFRE credits toward certification for each Audio/Web Conference you attend. For more information about CFRE certification, please visit http://www.afpnet.org/Professional/ProgramDetail.cfm?itemnumber=4056
About the Presenter:
Brian Bonde is a nationally recognized expert in non-profit management and fundraising. He is an Advanced Certified Fundraising Executive (ACFRE), one of only 100 professionals worldwide to hold this distinguished designation from the Association of Fundraising Professionals.
He has been involved in raising nearly $100 million for several organizations. He has been recognized by Association of Healthcare Philanthropy (AHP) with the Showcase Award for Planned Giving and by the Association of Fundraising Professionals (AFP) with the prestigious Award for Excellence in Fundraising. He is a noted consultant and trainer to non-profits through his firm, Advanced Certified Fundraising, LLC. He has been in senior leadership positions for Sanford Health, Children's Care Foundation and Augustana College.
Brian is Vice Chair of the national AFP Foundation for Philanthropy and also serves on the South Dakota Arts Council, the board of Arts Midwest, South Dakota Association of Fundraising Professionals, the regional cabinet of the Association of Healthcare Philanthropy, and several others. He has been on various non-profit boards for over 40 contiguous years.