October 19, 2023 / Online
October Virtual Lunch Program: Diversity, Equity, Inclusion, and Belonging
AFP Fairfield County presented by CCS
Diversity, Equity, Inclusion, and Belonging
Join us for a dive into Diversity Equity and Inclusion and Belonging (DEIB): As those of us working in the nonprofit sector know – it is essential to understand the diverse community that we serve. In this session, we will go beyond the basic training you may have received. We are excited to learn how we all can be involved in implementing a diverse and supportive environment that is conducive to the success of all members of the community.
Our Presenter:
Maurice D. Nelson – Chief Diversity and Inclusion Officer at Sacred Heart University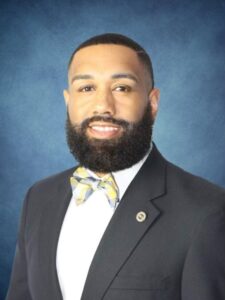 Maurice D. Nelson (he/him/his) is a proud native of historic Savannah, GA. He identifies as Black and Mexican, and his ethnicities and other identities have developed and continue to cultivate his purpose and passion for advocacy of underrepresented people.
Mr. Nelson earned a Bachelor of Business Administration in Management from Savannah State University, a Master of Education in Higher Education Administration from Georgia Southern, and he is pursuing a Doctor of Education in Higher Education Leadership. He has served as the Assistant Director of Multicultural Affairs in the Georgia Southern University Office of Multicultural Affairs (OMA). In this role, he coordinated mentoring and student success initiatives, which increase retention, progression, and graduation rates of traditionally underrepresented students. During his tenure, he led the Minority Advisement Program, the Men of Vision and Excellence (African American Male Initiative), Diversity Peer Educators, and he developed Sisters with Vision (Black Woman Initiative) and the Hispanic Outreach and Leadership Achievement programs on the Statesboro Campus. Additionally, Mr. Nelson worked as the Coordinator of Diversity Education and Program Outreach where he helped expand OMA's Diversity Education Training program and multi-identity programming to provide efficient and robust platforms for multi-identity development and engagement. Most recently, he served as the Director of Diversity, Equity, and Inclusion at Yale University in the School of Nursing (YSN). In that role, he was also the school's Title IX Coordinator and Discrimination and Harassment Resource Coordinator. He led the development of the school's DEI and Belonging strategic plan and was a key resource for establishing inclusive excellence at YSN. He now resides in New Haven, CT, and he is the Chief Diversity and Inclusion Officer at Sacred Heart University where he leads Inclusive Excellence for the institution.
Mr. Nelson has made significant contributions to Inclusive Excellence at the institutional and system-wide levels. Some brief highlights include: serving on the First and Second Year Experience Steering Committee and leading the course's diversity, equity, and inclusion (DEI) curriculum development, facilitating Peer Mentoring and Social Belonging best practices workshops to senior leaders during the University System of Georgia's Momentum Year Summit, facilitating DEI workshops for Georgia Southern's President Leadership Development Institute, facilitating Courageous Conversations workshops, and he worked with Associate Vice President of Inclusive Excellence and Chief Diversity Office to develop Georgia Southern's inaugural Inclusive Excellence Action Plan. Mr. Nelson has served on the institution's Student Success Committee, the Sexual Assault Response Team (SART), the Prevention of Men's Violence against Women Champion Committee, the Student Affairs Collaborative Programming Work Team (co-chair), and he is a certified Question, Persuade, and Refer (QPR) Suicide Prevention Gatekeeper Instructor and a Certified Diversity Executive. Additionally, he was a part of the historic and inaugural cohort of Inclusive Excellence fellows at Georgia Southern. Mr. Nelson has received many awards and acknowledgements, including Georgia Southern University Student Organization Advisor of the Year, National Pan-Hellenic Graduate Advisor of the Year, Alpha Phi Alpha Fraternity, Inc. Man of the Year and Area Director of the Year, and the Student Affairs 99% Perspiration Award that acknowledges a superior work ethic. He was also inducted into the 2021 Class of Georgia Southern's Top 40 Alumni Under 40.
Maurice Nelson has worked through a myriad of civic and social justice organizations as an inclusion change agent, and he is committed to strengthening his competencies and ability to advocate for the success of others. Advocacy for underrepresented and minoritized people continue to lead as the driving force behind his personal and professional endeavors.
Our Sponsor:
TBD
Details
Date: Thursday, October 19, 2023, 1:00 PM – 2:00 PM
Location: Online
Workshop Fee
AFP MEMBERS (ALL CHAPTERS) – $10
FUTURE MEMBERS & GUESTS OF AFP Member – $15
CFRE Credits:
You earn 1 CFRE credit toward certification for this event.
For more information about CFRE certification, please visit https://www.cfre.org/certification/