February 23, 2016 / Fairfield Prep
SOLD OUT! Lunch and Learn Webinar – Storytelling for Fundraisers
Bring your own brown bag and "lunch and learn" with your peers! AFP International curates a live webinar series on a range of topics presented by field experts. AFP Fairfield County streams selected webinars free of charge at one location for members who register in advance ($20 for non-members). Streaming the live webinars on your personal device is available, but each stream will cost a minimum of $149 (purchased directly from AFP).
Registered attendees will receive an email the day prior to the webinar, with a link to download their own materials. There will be no handouts provided at the webinar location. Lunch and Learn Webinar attendance earns 1.0 CFRE Credits.
FREE TO AFP MEMBERS

   (

$20 for non-members*

)
Presenter:  Tom Ahern
Date:  February 23, 2016 (Tuesday)
Run Time:  1:00 – 2:30 PM
Location:

Fairfield Prep, Fairfield University Campus
1073 North Benson Road, Fairfield, CT  06824-5157
The President's Conference Room
CLICK FOR DIRECTIONS AND PARKING INSTRUCTIONS
About This Session:
Storytelling in the context of fundraising is VERY different than storytelling in the context of trying to bring down a mastodon for the tribe. The story's about the donor.  In shockingly lucrative communication programs, the donor is the obvious hero. The organization plays a supporting role and yet few charities write this way. Learn how to be one of those few … and succeed beyond your wildest dreams!This webinar will highlight the findings of a brand new research project on how small and mid-sized nonprofits can successfully raise major gifts. We will break down the findings into concrete steps and identify best practices nonprofit organizations can use to raise major gifts in more effective and efficient ways.
We will make recommendations for organizations looking to be more sustainable and raise significantly more major gifts. We expect to be able to provide genuine insight into the world or major gift fundraising and validate or debunk myths surrounding major gifts.
Registration/Payment:
Free to AFP Members; $20 for Non-Members*
*We ask that payment for Non-Members be made in advance, either by mailing a check made payable to "AFP-FC" to:
Marianne Hickey, 29 Black Alder Lane, Wilton, CT  06897
or we can accept a credit card payment by clicking here 
To confirm your attendance, send an email to: 
About the Presenter: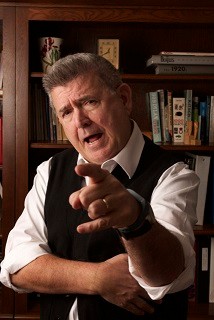 Tom Ahern is considered one of the world's top authorities on donor communications. He is the author of four well-received books on the topic, with two more in the pipeline. Each year, he delivers dozens of workshops internationally. He spoke recently at conferences in New Zealand, the Netherlands, Belgium, Australia, and Italy as well as across North America. He specializes in applying the discoveries of psychology and neuroscience to the day-to-day business of inspiring and retaining donors.
He is an award-winning journalist. As a "message strategist," he's won three prestigious international IABC Gold Quill awards, all for communications campaigns which achieved phenomenal success.  He collaborates with Prof. Adrian Sargeant and psychologist Jen Shang on prototyping innovative new donor communications campaigns for PBS.